The Works Of

---
B.Moore is a contemporary artist working out of Washington, DC. He uses oils on a wide variety of platforms to create colorful works of great exuberance. His work is purely abstract, with bright colors and often geometric forms. His pieces are quite varied, but throughout all of them there are three predominant themes.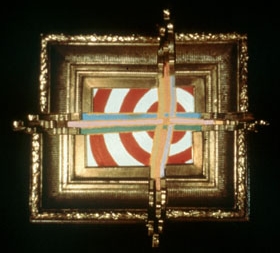 Kalorama, Kansas
Freedom from the Tyranny of the Frame
For centuries, Man has captured, in his paintings, the brightest and darkest aspects of himself and of his world. He then puts these images into little, rectangular prison cells with gold-leaf walls.

Frames around paintings are representative of society's reaction to artists. We need to contain their creativity, to provide a buffer between ourselves and the raw imagery of their work. Inside the frame, the artist may do as he or she wishes - but the frame ensures that the entire work will conform to our expectations of size, of shape, and even of style.

Mr. Moore seeks to free his paintings from the physical - and metaphorical - boundaries of "frames". Most often this is by incorporating an actual frame into the work, which reacts to the structure of the painting itself (e.g. "The Vagabond Prince"). He uses other devices, though, such as making the painting burst forth over the frame (e.g. "Blueblood"), pulling the frame into the structure of the painting (e.g. "The Waiting Pool"), eliminating the frame altogether so that the painting may have a freeform boundary (e.g. "Avisovoltage"), and others.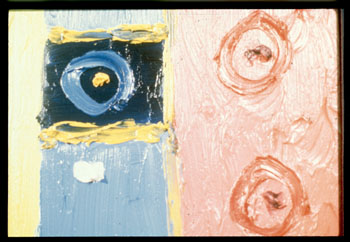 Naked Empire (detail)
The Hand of Man
Art is a human endeavor. Mr. Moore likes for this to be evident in his work. From a distance, a painting may appear to have straight lines, but upon closer inspection, "The Hand of Man" is obvious. He applies his paint with a technique which gives it a thick, organic look and feel. This technique gives his paintings a three-dimensional aspect, even beyond the incorporated frames. They are almost as much sculpture as they are painting.

Unfortunately, this very aspect of Mr. Moore's art makes it difficult to show. The images on this page may give you a rough idea, but they do not adequately capture his work. Mr. Moore's art must be seen in person to be truly appreciated.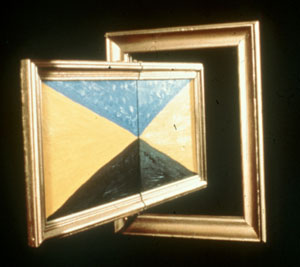 I was a Teenage Ne'er-do-well in a Black Convertible
A Little Bit of Himself
To know the art is to know the artist, and vice-versa. Mr. Moore has led an eventful life, from childhood in suburbia, youth in rural Kansas and Florida, college, travel abroad, to adult life in New York and the District. Mr. Moore has a rich history and a unique perspective, which he draws upon for his inspiration for painting. Each piece is infused with his personality, his past, his thoughts. His works are visually compelling, and are beguiling for this alone - but the visual impact is only half of the story. Each has a tale, an idea, a piece of the artist, and are all the more intriguing for this.

---
Here are images of many of the works of B.Moore. Most are currently in private collections.



| | |
| --- | --- |
| To Spite My Face | The Golden Milk of the Hogs and Heifers |
| The Waiting Pool | Above the Fire |
| Santa Antilles, 1928 | Naked Empire |
| Leaving the Darkness | A Painting that Cannot Contain Itself |
| Exploding Painting No. 1 | Irascible No. 1 |
| Running Through Reality | I was a Teenage Ne'er-do-well in a Black Convertible |
| Kalorama, Kansas | Blueblood |
| Wyatt's Quiet Night | Attilin |
| My Stepmother Was a Teenage Hitler in Capri Pants | The Vagabond Prince |
| I'll Never be the Same Boy Twice | A Painting that Cannot Keep Still |
| A Clique of One | Avisovoltage |
| The Wonderful World of Wyatt | |