Atlanta Office "Secret Santa" Gift Summary for 1999
Jimmie
Theme: Jimmie loses to Doug a lot in chess.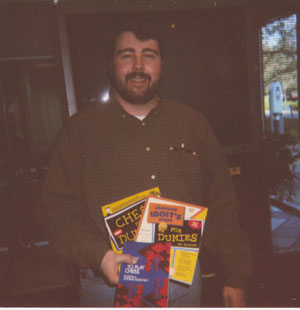 Book: "Chess for Dummies"
Book: "Complete Idiot's Guide for Dummies"
Book: "How NOT to Play Chess"
Kevin
Theme: Y2K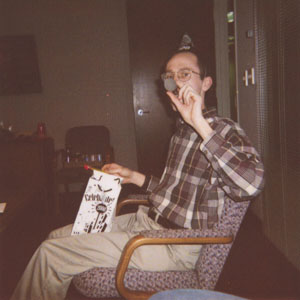 Flashlight
Water
Poppers
Lightsticks
Party Horn
Party Hat
Slim Jim
Powerbar
Doug
Theme: Moving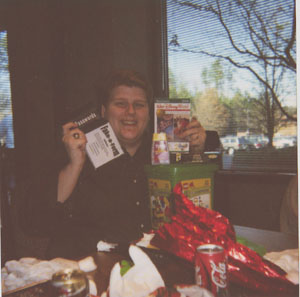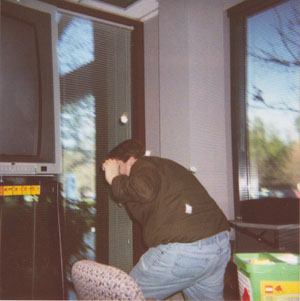 LEGO Duplos, with note. All of the other gifts were inside the Duplos box, packed in cotton balls (since Doug's Secret Santa learned that he hates to touch cotton. The second photo shows what happened when the rest of the group found out.)
Password book (he seems to be forgetting them lately)
Watergun
Spare wire
Disney World guide book (Doug said earlier "When this is done, I'm going to Disney World!")
Fake-a-Form software CD
"Peachtree Movers" toy moving van
Tums
Earl
Theme: Earl collects Pez dispensers, but seems to discriminate against the miniature ones.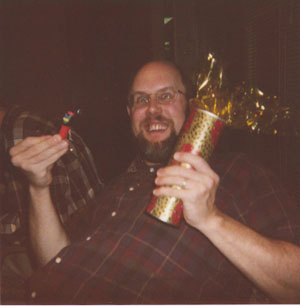 Lisa
Theme: Lisa could become a VP by running the ISX Flea Market, but she'll need to learn some other things first.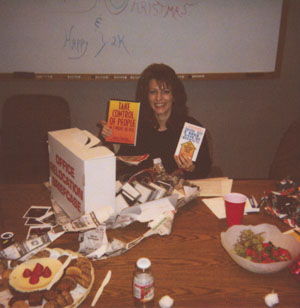 Book: "How to Fire Your Boss"
Book: "Take Control of People"
Moving briefcase full of junk
Hoffman
Theme: Mark has a new car. It's starting to look like his old car, the Kavorkian Mobile, but it needs some help.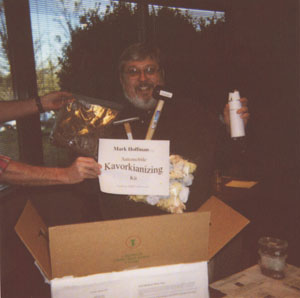 Mark's gift was wrapped with printouts of web pages involving other Mark Hoffmans.
"The Mark Hoffman Automobile Kavorkianizing Kit", comprised of the rest of the gifts
Three different kinds of dirt
Paper wads
"Bonus Debris" (sticks, leaves, pine needles, etc.)
Toy change
Toy garden tools
Toy soldiers, farm animals, etc.
Hammer for making dents
Tool for removing seats, general damage
Aerosol can labeled "Carbon Monoxide"
Greg
Theme: "The Epitomy of Man Club"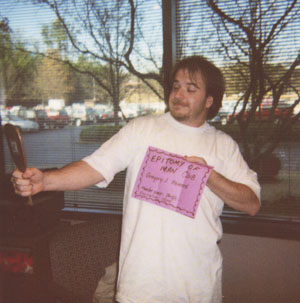 Diploma
Membership Card
T-Shirt
Mirror
Jennifer
Theme: Life in DC is different from Atlanta.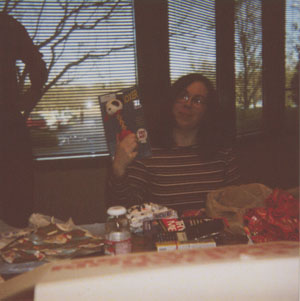 Toy Beeper
Preparation H
Alcohol Wipes
Cover Girl Makeup
Toy Cel Phone
Kudos
Funny Boxer
Fred
Theme: Y2K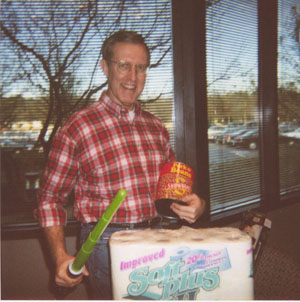 Pork & Beans
Toilet Paper
Toy "Star Wars" Light Saber (can be used as a flashlight, or as a weapon to defend his stash).
vanb
Theme: When on the phone, vanb's voice is too loud.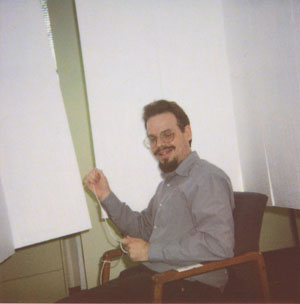 "The Cube of Silence" - an elaborate construction in one of the back offices, consisting of styrofoam panels with a winch system to raise and lower it over vanb as he uses the phone.