Atlanta Office "Secret Santa" Gift Summary for 2000
Here's a complete Photo Gallery to check out!
vanb
Theme: vanb has had trouble with the UCF candidates he's recruited.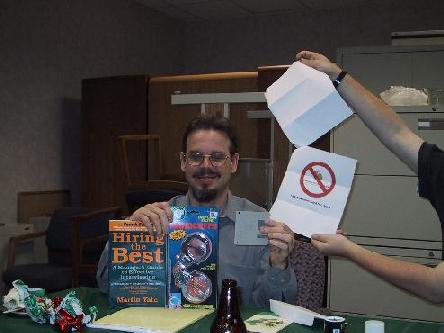 Book: "Hiring the Best: A Manager's Guide to Effective Interviewing"
Handcuffs
Sign: "UCF Graduates Need Not Apply"
Chad
Theme: At one time in Chad's wild youth, his father (Larry) had to remove the battery from their car to prevent Chad from leaving the house.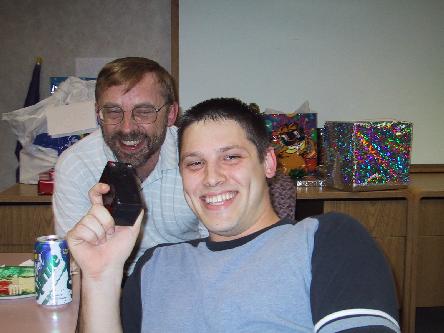 Kevin
Theme: Various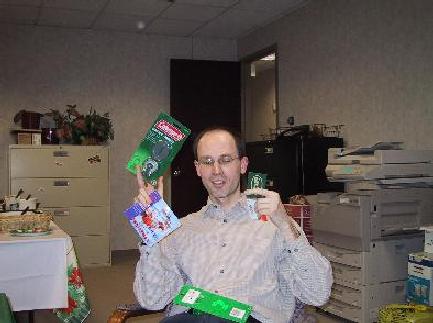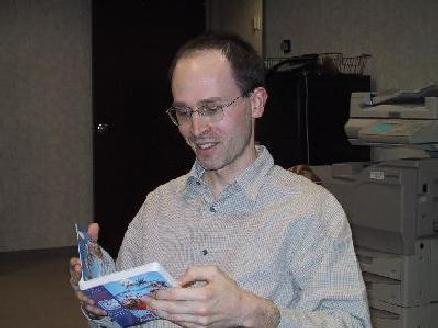 Little License Plate which says "Kevin" (For his bike)
Bike Horn
Compass (in case he gets lost while pacing)
Book: "The Night Before Christmas" (which he had to read aloud)
Cotton Balls (for his ears - his office is right next to the construction next door)
Sherry
Theme: Sherry has taken some losses in the stock market this year.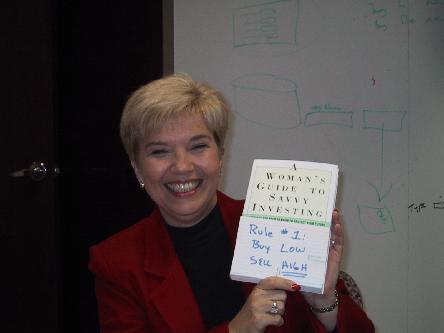 Book: "A Woman's Guide to Savvy Investing"
Note on Book: "Rule #1: Buy LOW, Sell HIGH!"
Jennifer
Theme: Jennifer recently had a wisdom tooth extracted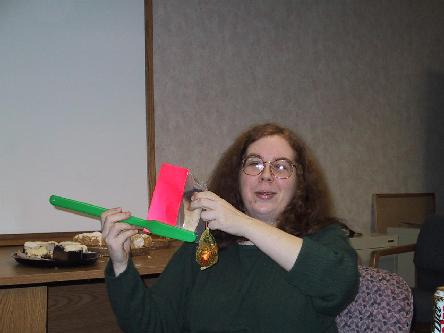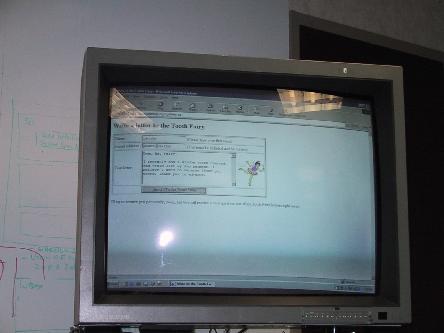 Web Page: "The Online Tooth Fairy"
Candy Money (until the Tooth Fairy comes through)
Oversized "Super Toothbrush" (can also be used as a pet brush or a toilet brush)
Replacement Tooth (Dinosaur tooth, presumably with lots of wisdom)
Justin
Theme: Justin has to deal with meetings with Larry and vanb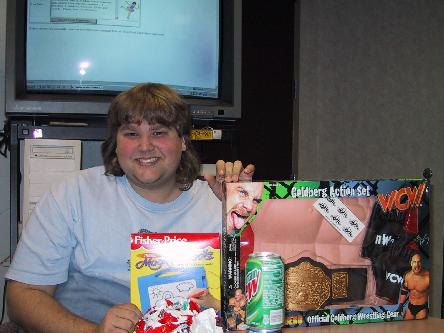 Magna Doodle (to keep from being bored)
WCW Goldberg Action Set
The Wonder Twins (Anna and Jamie)
Theme: The twins sometimes have trouble making it to the office.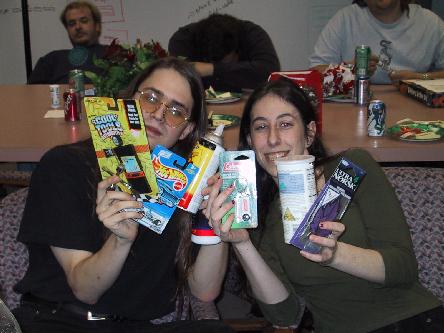 Map of Atlanta
Printed MapQuest directions to the office
Compass
Car Care Stuff
Air Freshener
Bread Crumbs
A New Car!! (Hot Wheels toy)
Greg
Theme: The Epitomy of Man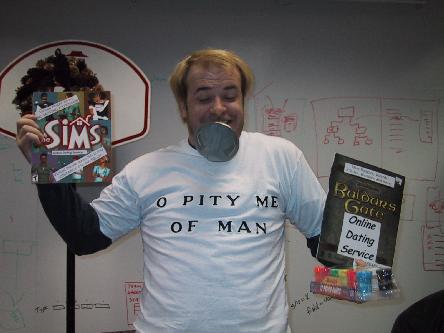 Poster Paints (Hair color - Greg's hair was orange for a while)
Fake Ram-air
Children's racing kit
Software: "Baldur's Gate Dating Service" (No Alaskans allowed!)
Software: "The Sim's Dating Service" (No Long-distance Phone Bills!)
T-Shirt: "O Pity Me of Man"
Larry
Theme: Mr. Matrimony gets married again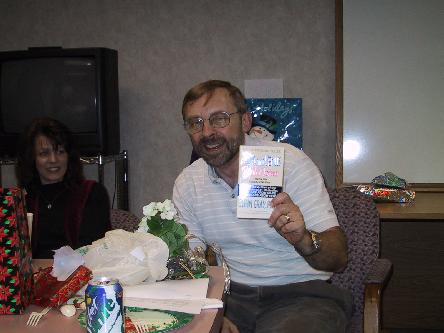 Book: "Mars & Venus: Together Forever"
Various wedding stuff, in case Larry has to put a wedding together quickly
Doug
Theme: Doug has gotten too good at the office basketball game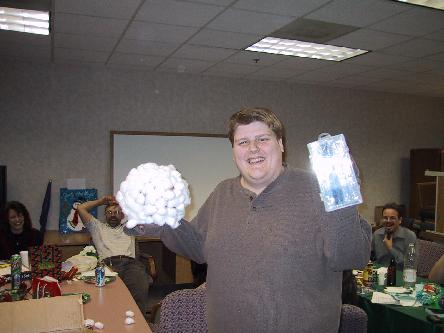 Basketball, covered in cotton (which Doug cannot touch)
Basketball inflater
Eric
Theme: Eric likes Go, Eric hates "The Doors"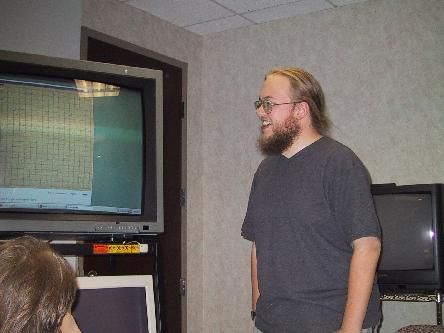 A Java program which plays Go poorly, and spews quotes and music.
Lisa
Theme: Lisa can be a meanie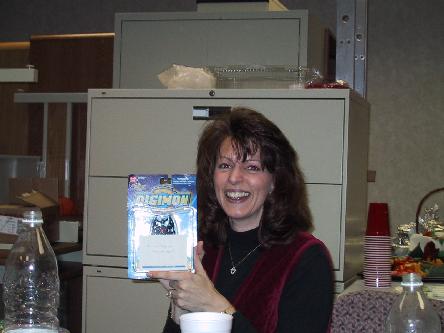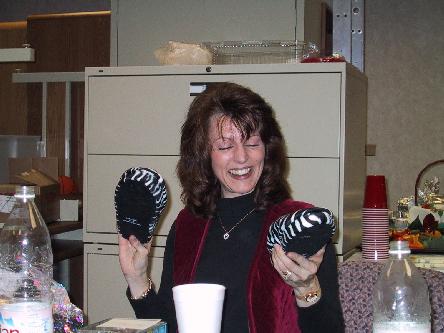 Digimon Digital Monsters
Zebra slippers
Jimmie
Theme: Jimmie idolizes Doug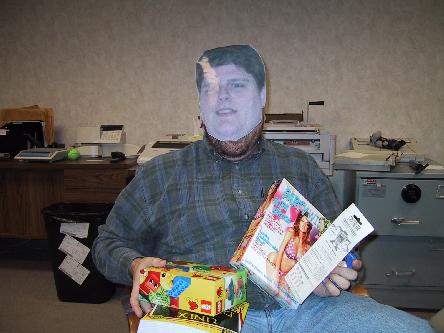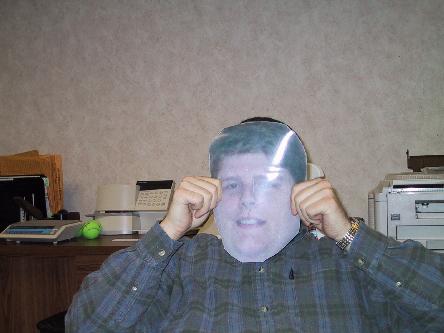 Five Notes, one on each gift
"Doug" facemask
Book: "UNIX for Dummies"
LEGO Duplos (Cute Animals)
Taz stuff
Inflatable doll (labeled "Inflatable Party Wife")
Mark
Theme: Mark's Boy Scout Survival Sash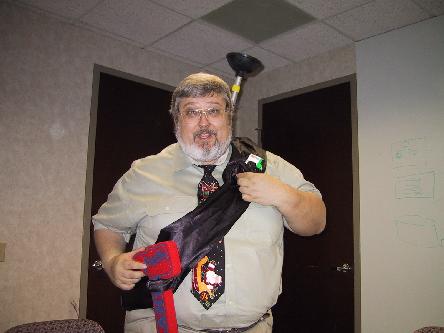 Survival Sash, on which the other gifts hang
Disposable Camera (a reminder of Mark's courage in the face of skydiving)
Braves' Tomahawk (a reminder of Mark's appearance on Braves' TV)
Door Shutter (Mark can be too loud on the phone)