Atlanta Office "Secret Santa" Gift Summary for 2001
Special note: The Atlanta Office held its Christmas party about a week earlier. We had dinner at a restaurant, and then went to a performance of "A Christmas Carol" at a local theater. Lisa printed directions to the theater - which turned out to be erroneous. That's why many of the notes have references to Lisa and directions!
---
The Atlanta Office (from DC)
Theme: Atlanta Core Hours.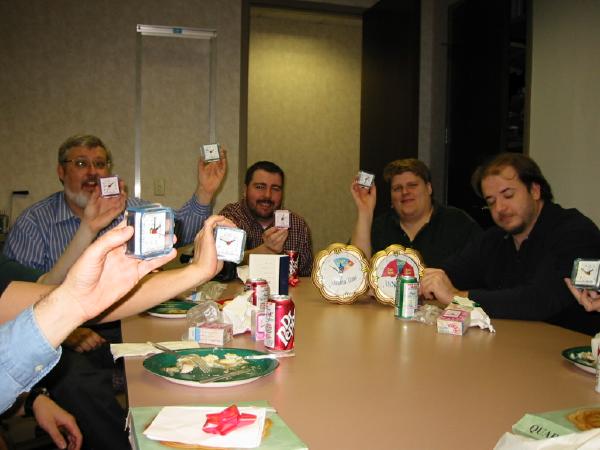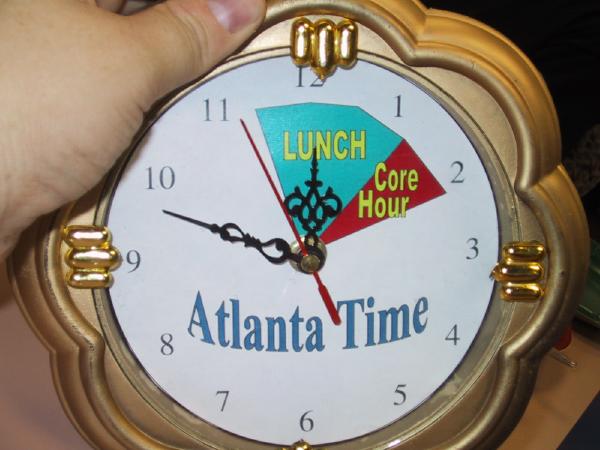 Clock, with ISX Core Hours labeled
Clock, with Atlanta Core Hour labeled
Individual alarm clocks for each Atlanta employee, each with a sticker: "ISX CORE HOURS 9-4"
---
Our Little Trayton
Theme: Trayton sure is young.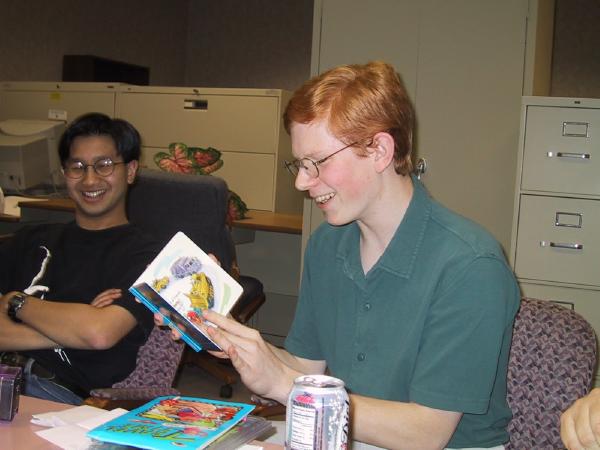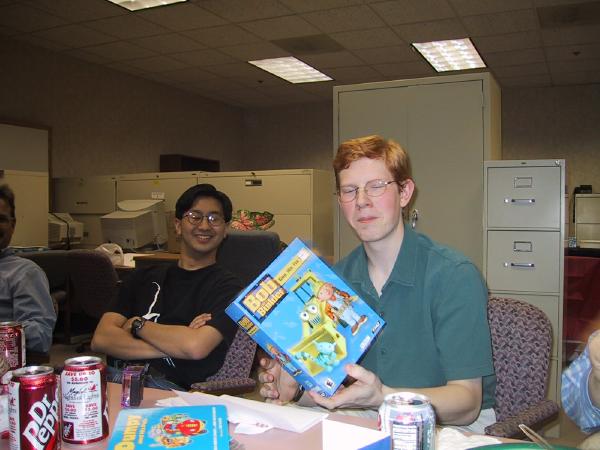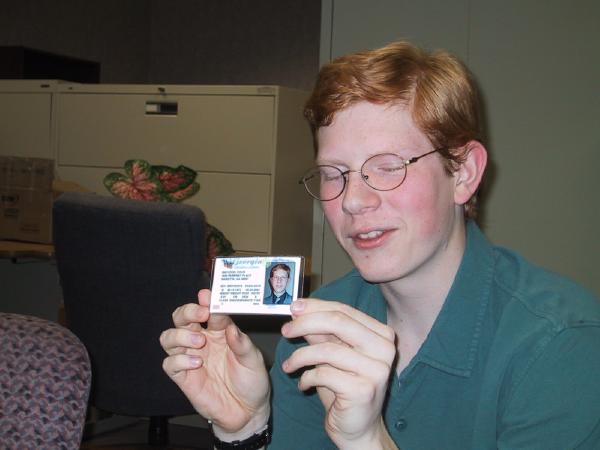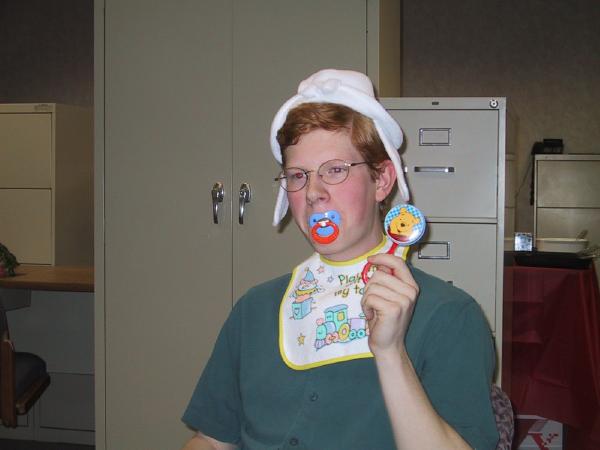 Kid's Activities for travelling

Book: "Dumpy and his Pals"
Activity Pad with Crayons

Kid's computer game: "Bob the Builder"
Fake ID: "Colin MacLeod"
Baby Stuff

Bonnet
Pacifiers
Bib
Rattle
Mixed Vegetable Baby Food
---
Greg
Theme: Having some weaponry might improve Greg's day-to-day life at ISX.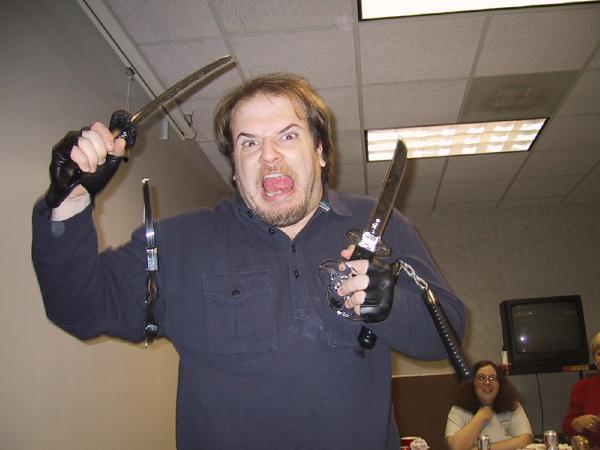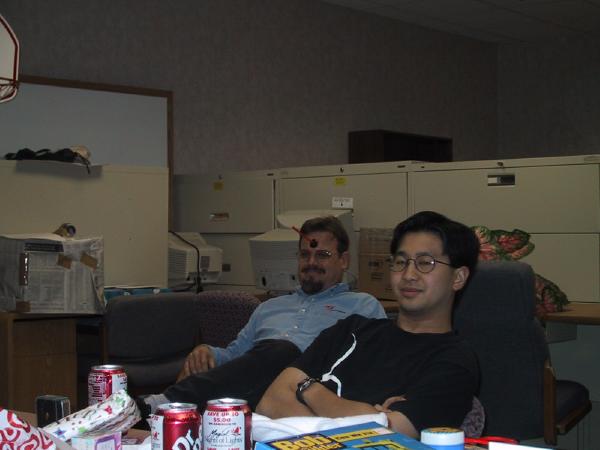 Toy Sword
Toy Knife
Fingerless Gloves
Toy Numchucks
Toy Shurikens
Toy Bow & Arrows
---
The Wonder Twins (Anna and Jamie)
Theme: The Twins have run into some trouble with airport security.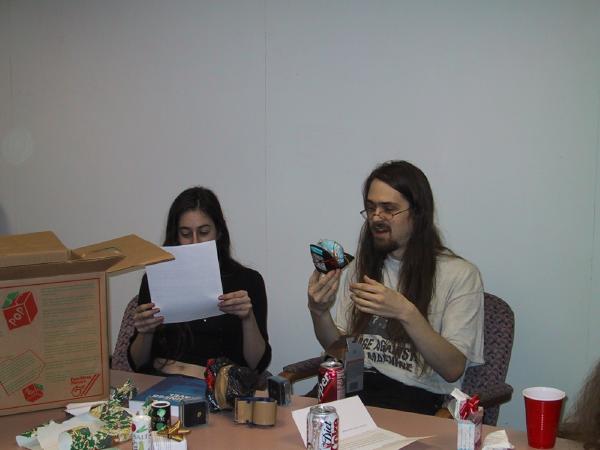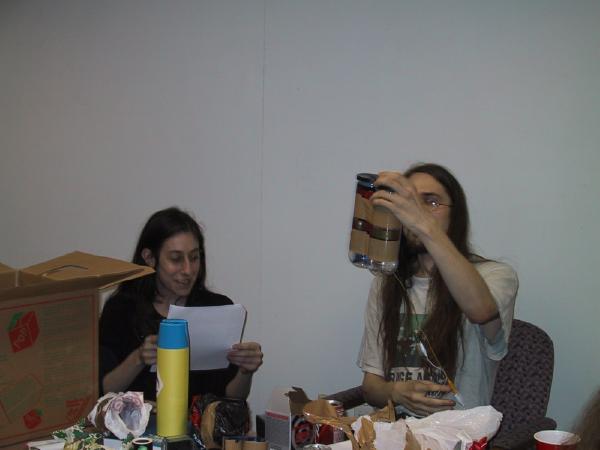 Box itself is a suitcase
Book: "Business Travel"
Bomb-like combination of items

Travel Alarm Clock
Soap
Wires

Aerosol spray with Biohazard warning label
Another Bomb-like combination of items

Two "Rat Carriers" (empty plastic bottles)
Water
Wires

Book: "The Koran"
CD: "The Anarchist's Cookbook"
Flour & Vanilla Extract
---
Jennifer
Theme: Some of Jennifer's decisions over the past year have been questionable...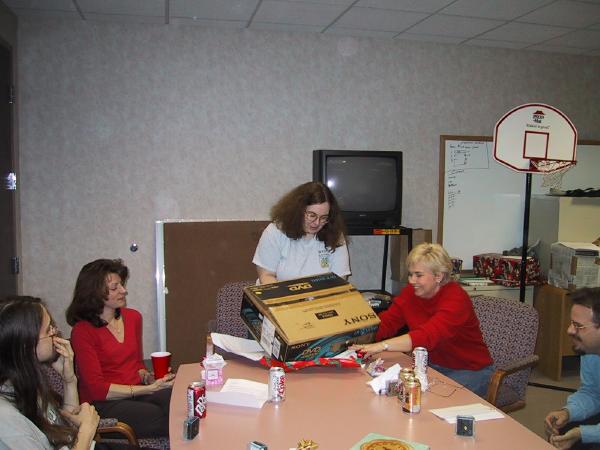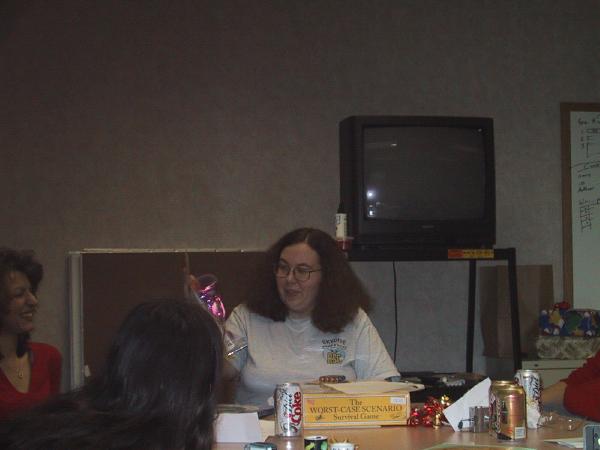 DVD player! But, the box didn't contain a DVD player. It contained:

Children's travel book: "My World: A First Look at the World"
Book of Kitten Stickers
Game: "The Worst-Case Scenario"
Bubble-shooting Gun
---
Sherry
Theme: Sherry is stressed. Maybe she needs to try Islam - or ISXlam.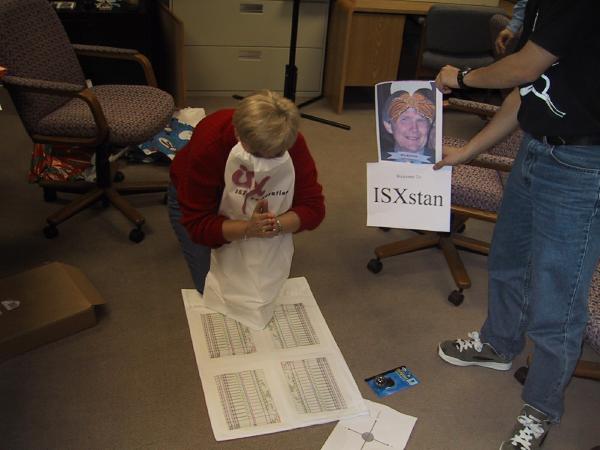 Series of Notes
Book: "The Complete Idiot's Guide to Understanding Islam"
Book: "The Koran"
"Prayer Rug", with images of ETC Spreadsheets
Compass
Compass rose, with points N, S, Mecca, Camarillo
ISX "Veil"
Sign: "Welcome to ISXstan"
---
Doug
Theme: Doug bought our Foosball table used, sight unseen, from a private seller in the middle of Alabama. Perhaps not the smartest shopping move...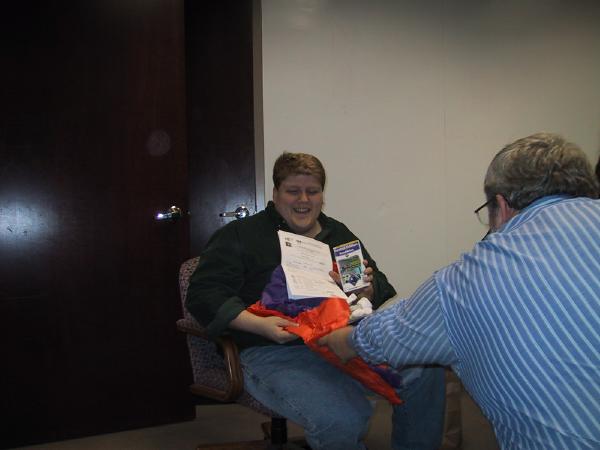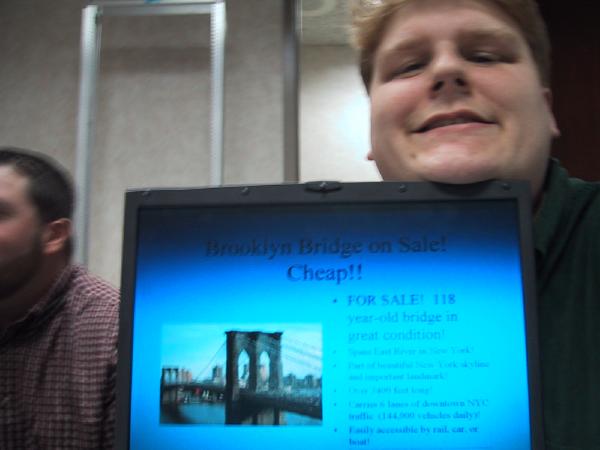 Road Atlas
Disk, with sales pitch for the Brooklyn Bridge on it
Modified image of an Ebay page, which purports to show that Doug paid multiple hundreds of dollars for an Xbox box - not the game, but the empty box it came it.
Miniature Foosball table, packed in cotton
---
Angelo
Theme: Angelo loves Bacon. He also sometimes goes by the nickname "The Chinaman".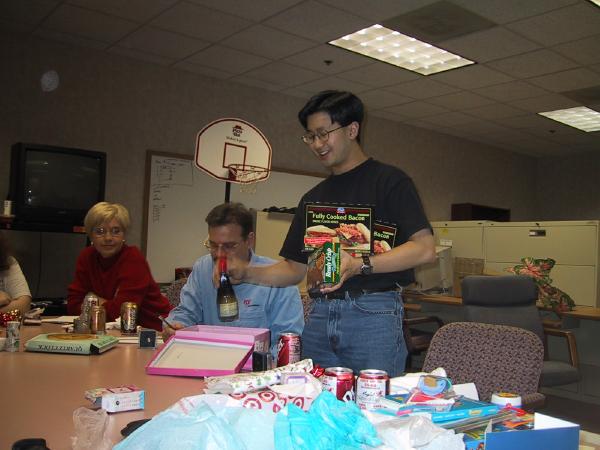 The Ultimate Chinese Box Lunch, consisting of:

Bacon
Soy Sauce
Bacon
Bacon
---
vanb
Theme: vanb is obsessed with collecting SkyMiles.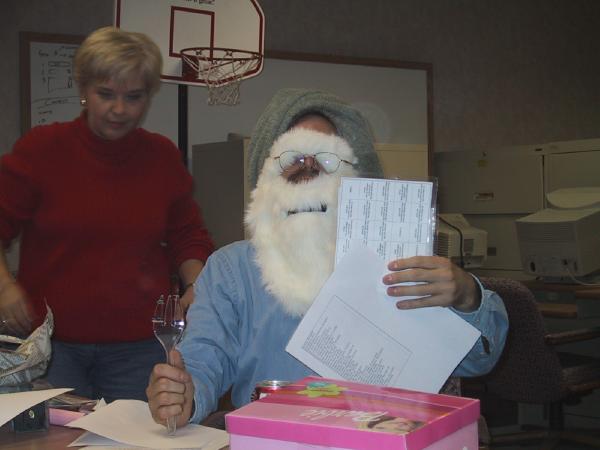 Gift was wrapped in a Towel, so vanb can become the first "Airport Hobo"
"Airport Bingo", a game consisting of:

Three nicely laminated 5x5 game cards, each square filled with something you might see at an airport
Three different colored pens

Disguise
"Airport Checklist" - list of all US airports
Towers of Hanoi, consisting of:

A 3-pronged fork
several different sized rings of beads
---
Lisa
Theme: Lisa's life has been stressful, with family emergencies.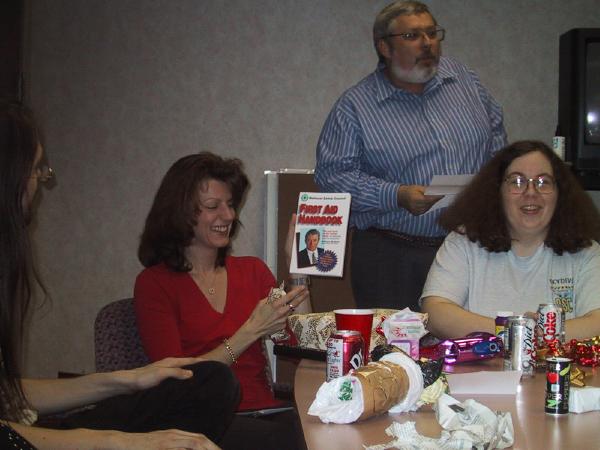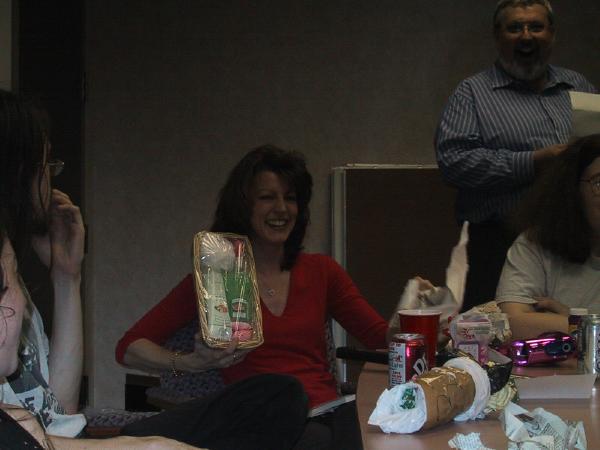 Book: "First Aid Handbook" (Picture of William Shatner on the front)
Nice Bath Stuff
---
Jimmie
Theme: Jimmie has been travelling more lately.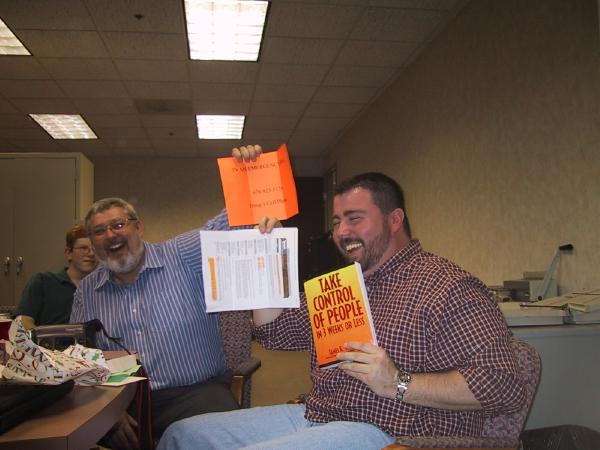 Book: "Take Control of People (in 3 weeks or less)", with highlighted quotes:

"This book will enable you to turn your life around completely. You'll develop the ability to gain remarkable and spectacular achievements instead of accepting average, even mediocre, results."
"1. You'll become a leader of people-not just a clever manipulator, but a true leader. People will want to do virtually anything you ask them to do."

Printout of DC's HOV rules
Sign: "In an emergency, call [Doug's cell phone number]"
---
Mark
Theme: Mark's drive home from DC after 9/11 was quite an event.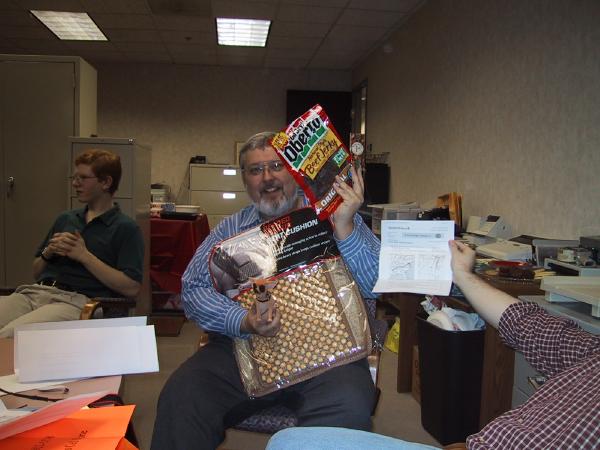 Bobbing-head dashboard dog
Beef Jerky
Car Air Freshener
Beaded car seat cover
Printed directions from DC to Atlanta .... Texas
---
The Atlanta Office (from Camarillo)
Theme: Atlanta sometimes has problems with their front door not being locked.

Camarillo's gift didn't arrive until after our Secret Santa party, so Doug & Jimmie held a party of their own, with a few of their friends.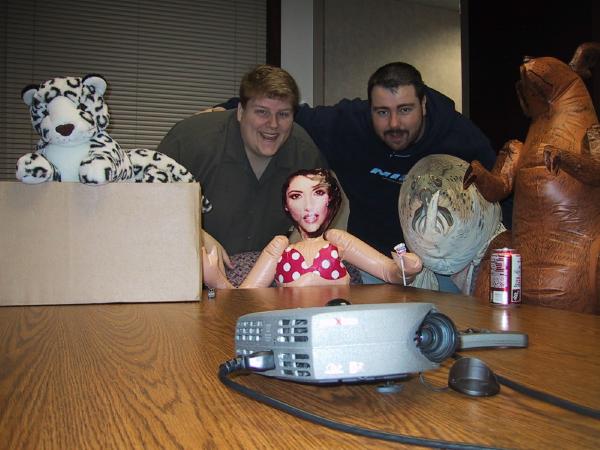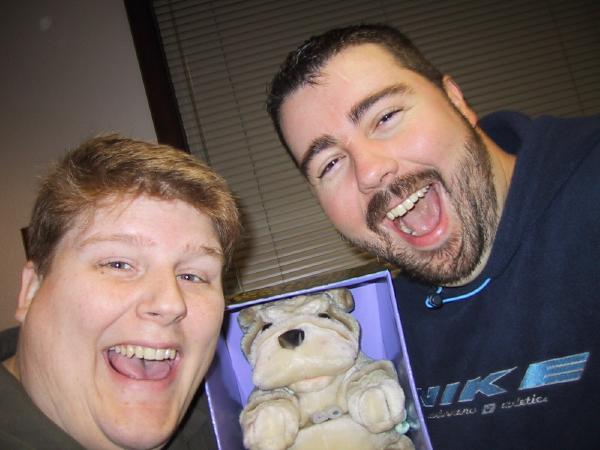 Security Dog, who dances to "Who Let the Dogs Out"