Atlanta Office "Secret Santa" Gift Summary for 2002
Special note: This year we have videos!! We have a digital video of each person opening their gift!
They are in DIVX format - You might need some new codecs. Try viewing one.
After each is listed its size and running time.
---
Jimmie
Theme: Jimmie just got a new apartment, and a new car, all by himself! He's a big boy now!.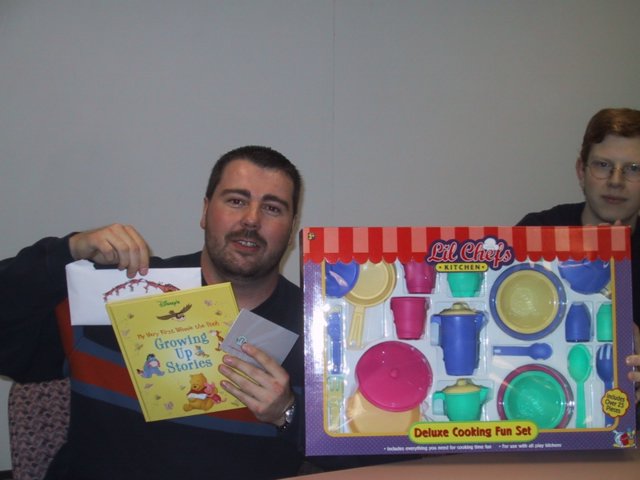 Book: "Growing Up Stories"
Toy kitchen/dining set
Starbucks gift certificate
---
vanb
Theme: vanb's 40th birthday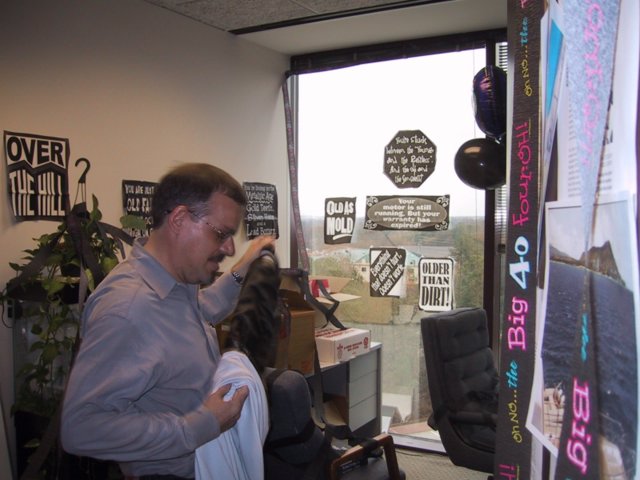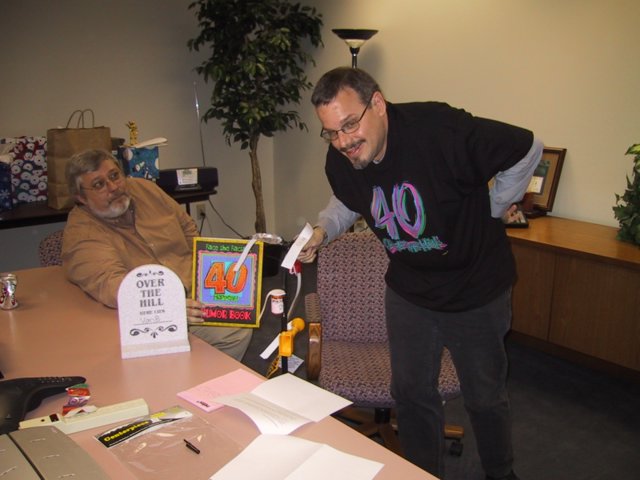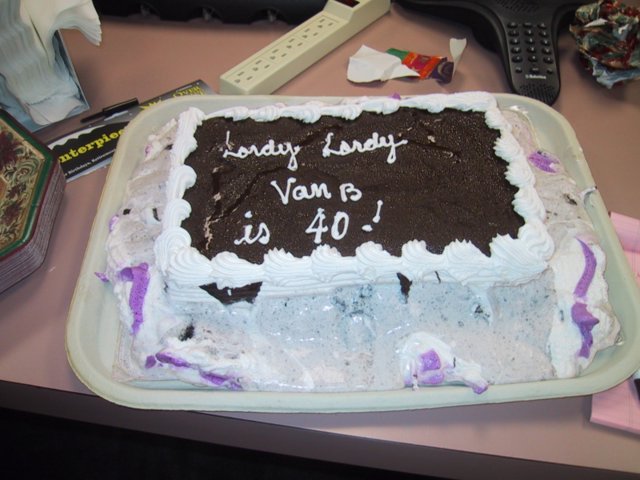 vanb's gift started before the party. When vanb arrived that morning, he found black streamers leading from the elevator to ISX, through the door, down the hall, to his office. There, he found:
At the party, he got more...

Tombstone
Book: "Face the Facts... 40 Happens! Humor Book"
T-Shirt
Special Cane

But the fun wasn't over yet. After the party, everyone got Birthday Cake - an ice cream cake which had, unfortunately, been kept in the refrigerator instead of the freezer.
---
Doug
Theme: Foosball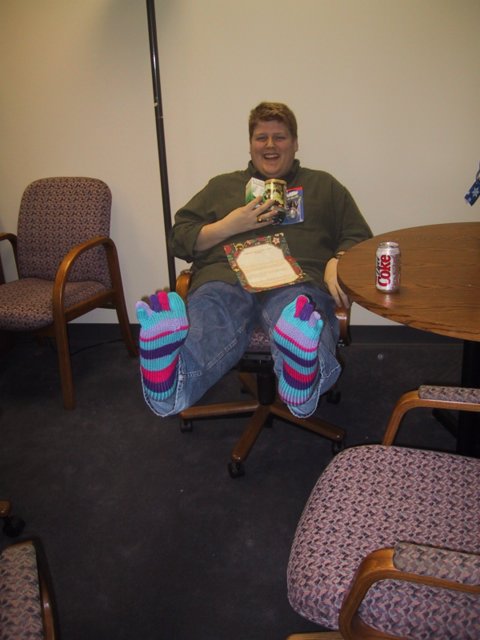 Toe Socks (so he won't hurt anyone when he kicks)
Gauze (to bind his Foosball wounds, to gag him when he's too boisterous)
Super Glue (to hinder his opponents)
Lego toy (so he won't get bored when he's not playing Foosball)
---
Angelo
Theme: Dealing with his Sister...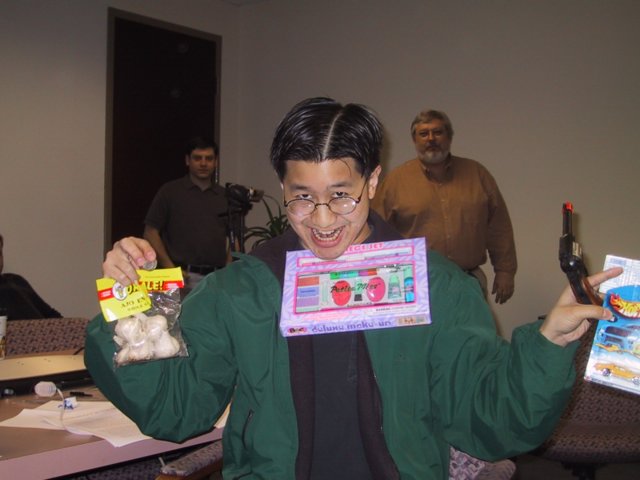 Watch the Video!! (69M, 10:32)
Hot Wheels car (she needs to be driven around a lot)
Garlic (in case she's a vampire - or, just to keep her away with the smell)
Make-up Kit (to hide from her)
Laxative (to keep her occupied...)
Quarter (give to her, tell her to call someone who cares)
Toy Gun (a final, desperate measure ... shoot her, or yourself)
---
Donna
Theme: Donna's new - she needs to get to know this office!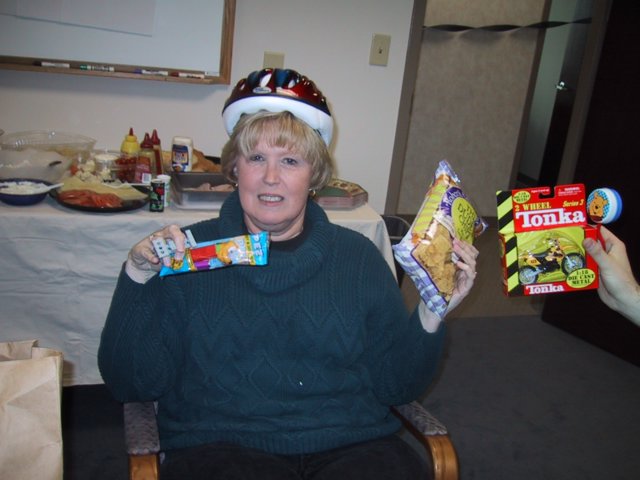 Watch the Video!! (72M, 10:56)
Helmet (to protect her from construction)
Stuff to help her identify different office denizens

Winders XP Alabama Edition manual (Greg)
Legos (Doug)
Pluto Pez Dispenser (Jimmie)
Rattle (Trayton)
Motorcycle Toys (Mike)
"Dude" Chips (vanb, who says "Dude" a lot)
---
Trayton
Theme: Trayton turned 21 this year - he's a man now!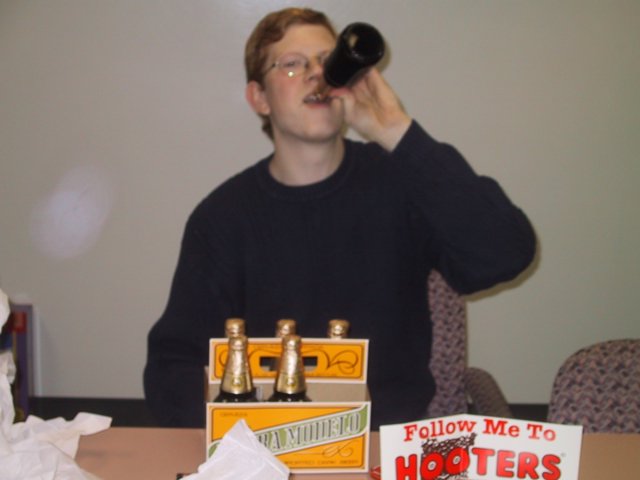 Hooter's stuff:

Gift Card
Keychain/Bottle Opener
Bumper Sticker: "Follow Me To Hooters"

Beer
---
Alicia
Theme: Car trouble, and earlier in the year she snorted some salt on a dare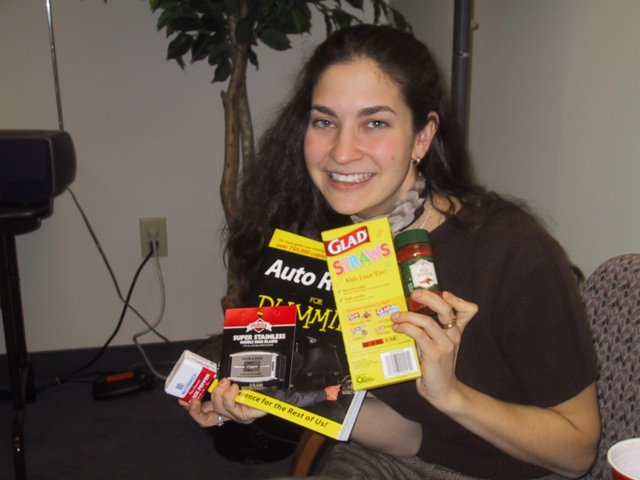 Book: "Auto Repair for Dummies"
Stuff to aid Alicia's snorting...

Black Pepper
Red Pepper
Straws
Razor Blades
---
Greg
Theme: Greg's a family man now...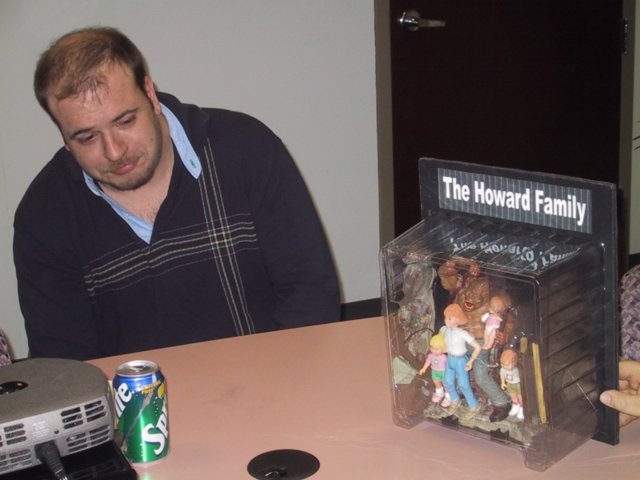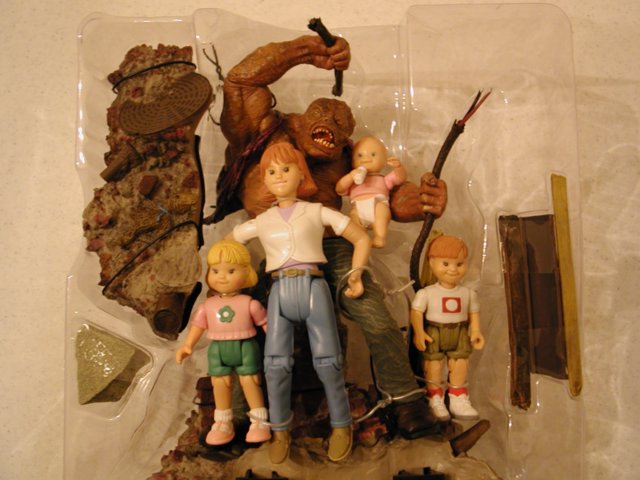 "The Howard Family" - a toy family with a Swamp Thing-like character as the dad
---
Sherry
Theme: Sherry drew her own name, and got something nice for herself. BOO!

BAD Sherry. NO Picture.
Sign: "Welcome to our Cabin"
---
Mike
Theme: MIKE NEEDS WOMEN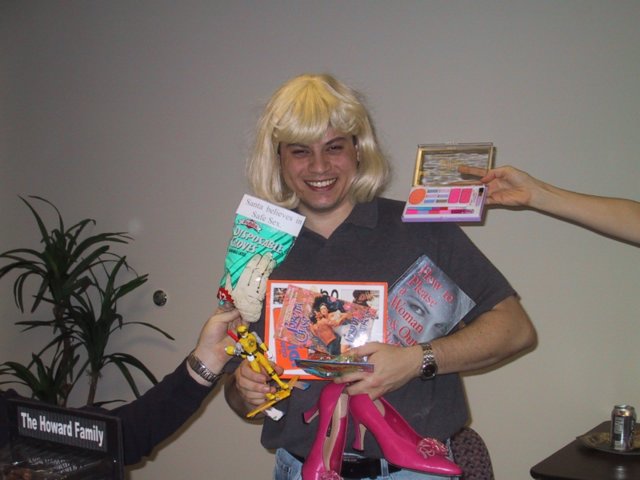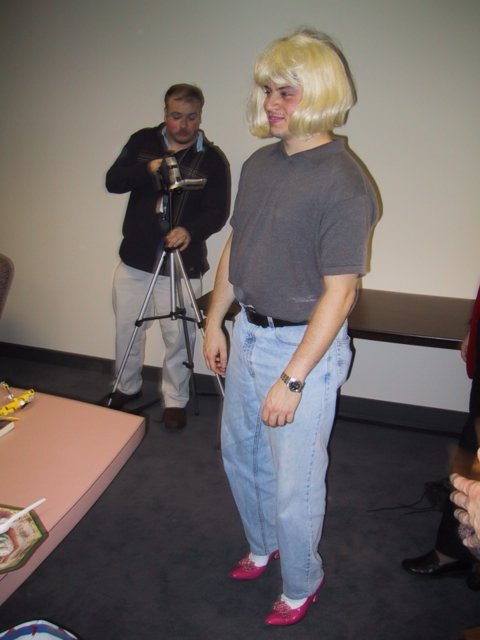 No name was on the gift - just a Yellow Power Ranger toy (Mike rides a yellow motorcycle, and has a matching yellow helmet and jacket. When we wears them, he looks like the Yellow Power Ranger.)
Books for Research:

Book: "The Complete Idiot's Guide to Dating"
Book: "How to Please a Woman, In & Out of Bed"
Book: "The Lord of the Scoundrels" (cheesy romance novel)

Stuff for Field Research:

Toy Make-up Kit
Women's Shoes
Blonde Wig

Stuff to use if he still can't get a date:

Finger Puppets
Latex Gloves (with note: "Santa believes in Safe Sex")
---
Mark
Theme: Various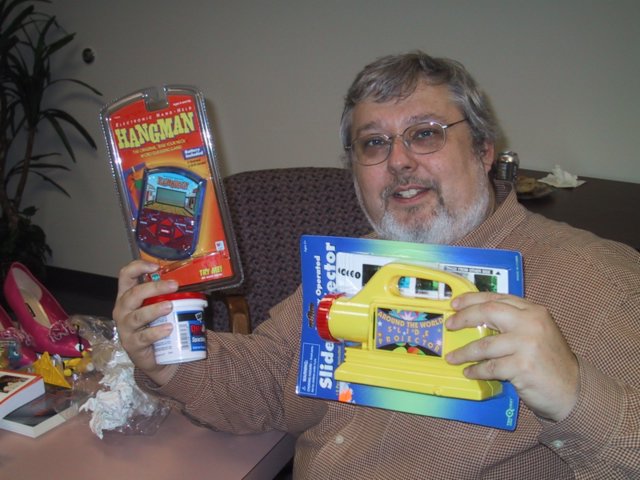 "Hangman" Game (so he can play with others in airports)
Map, showing Mark's "Other" home in the DC area
Toy Projector (he's always borrowing ISX's)
Spackle (he damaged a wall with a stick used to raise/lower the screen in the conference room)
---
After the party, Greg & Mike decided to get gussied up & go down to the building lobby.